Addressing Antibiotic Use Report Launch & Roundtable Event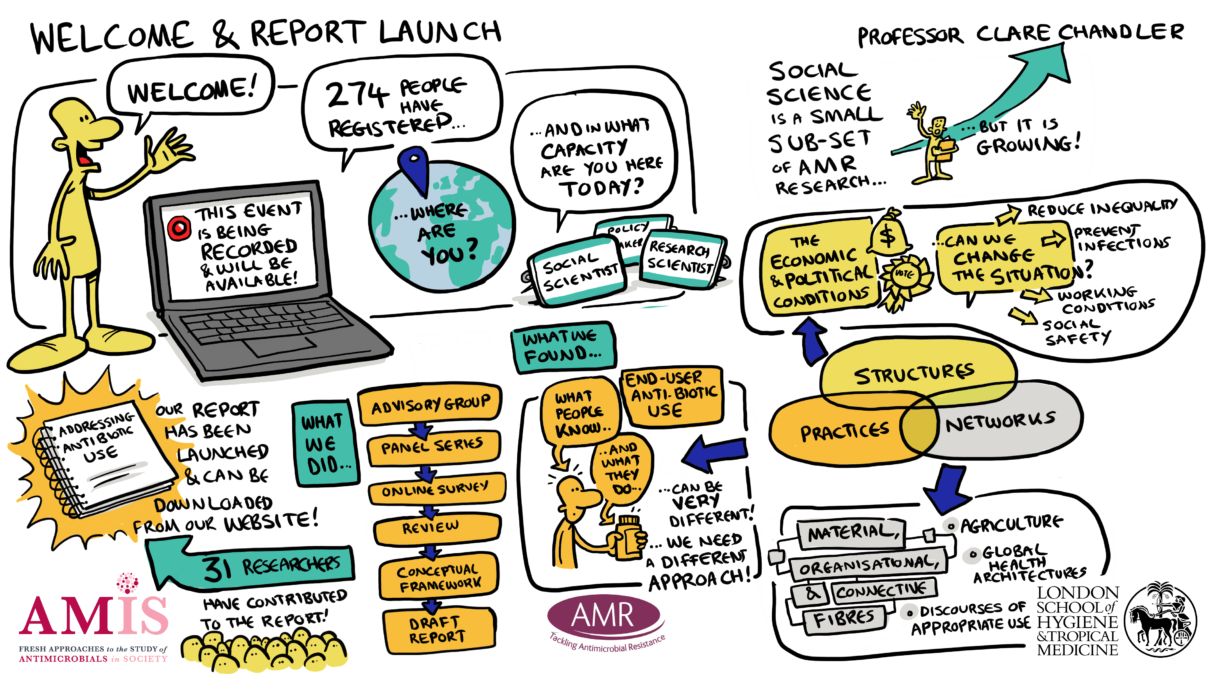 On the 24th of February, delegates from around the world joined Professor Clare Chandler online as she launched our collaborative report, "Addressing Antibiotic Use: Insights from Social Science Around the World". You can access the report and its appendix here, and a searchable version of the appendix summarising the research cited in the report is here.
Clare described how understanding antibiotic use through the report's framework of practices, structures and networks will support the development of research and policy responses. She explained that the report's findings of the range of recommendations from across social research outputs suggests that we need to revisit the focus, scale and timeframes of our responses, with efforts integrated into broader health and development initiatives. The graphic summary above illustrates Clare's presentation (prepared by Alex Hughes of Drawnalism).
For the roundtables, we had the privilege of welcoming a distinguished group of panellists with expertise in research, policy and programmes across a range of global One Health settings.
The first roundtable, considerations for research, was chaired by Dr Heidi Hopkins. Speakers considered how research infrastructure can support the development of locally tailored interventions. Professor Iruka Okeke highlighted the need to develop a community of social scientists in the Global South who understand the local context and with the expertise to contribute to the development of interventions. Professor Sabiha Essack explained how investment in implementation research that is decentred from the Global North and involves local stakeholders from the outset would produce relevant, usable evidence regarding how to address antibiotic use. This in turn raises questions about how to evaluate the success of more complex structural interventions. Dr Tim Jinks described the vacuum between international, top down responses and local action, calling for the inclusion of a diversity of voices in setting a Global South driven research agenda for addressing antibiotic use. Reflecting on the research included in the report, Dr Hung Nguyen highlighted the need for greater social science informed work on antibiotic use in livestock.
The second roundtable, considerations for policy and programmes, reflected on the time horizons and scales through which policy and programmes should address antibiotic use. Dr Haileyesus Getahun reported the mismatch between political timescales with their short-term interests in re-election and those over which AMR must be tackled, in part through addressing structural problems. He also described the tension between the need for large scale efforts to mobilise financial and popular support with the need for locally tailored actions. Professor Sujith Chandy suggested that improved sharing of the successes and challenges of implementing locally tailored interventions would foster their translocation to multiple other suitable locations. Similarly, Dr Watipaso Kasambara proposed a knowledge sharing platform through which research insights are made accessible to policy makers. Along with Dr Franck Berthe, Dr Kasambara also highlighted that by integrating tackling AMR into other programmes, such as sustainable development goals, greater financial and political support can be levered in order to mobilise action. Dr Berthe pointed out that there is no time to wait as we change our approach to tackling AMR, and investment is needed to have the right people in place to understand and reshape the systems that drive antibiotic use around the world. Panellists agreed that galvanising action at political and local levels is needed to mobilise the resources, action and ownership needed.
You can watch a recording of the event here.

Share